Those betting baseball seem more inclined for the most part to wager on favorites over underdogs.
With this in mind lines makers more often than not will inflate lines a tad adding some value to the under dog side of things. Baseball season is a long grind making underdogs a great value in plenty of spots along the way if you know where to look.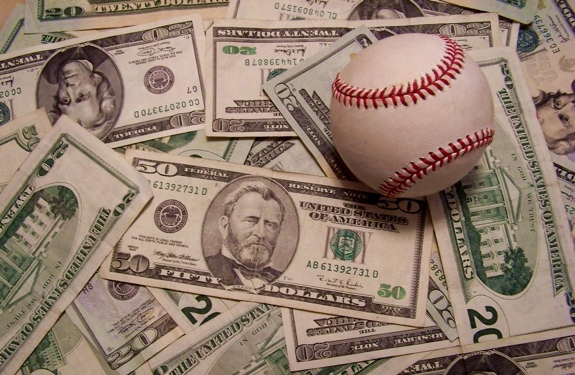 So far this season road underdogs have been one of those areas's where sports betting value can be found. The 2015 baseball season betting so far shows us that road underdogs have been winning at a 46.2% clip which would equal to a profitable addition to wagering accounts. Remember your getting the plus numbers here so hitting under 50% is still a profitable mark.
Here is a breakdown of road underdogs winning percentages broken down into various line ranges. MLB road underdogs in line range of "150" and lower have been winning at a 48% clip making this range the most profitable so far this season. MLB road dogs in the line range from "150-170" have won at a 46.7 % clip also showing a fairly decent profit margin.
A solid baseball betting angle can also be found within these numbers as road dogs priced at "150" or lower which have lost their previous road game by 2 runs or less have posted a record of 19-14 so far this season. There is no real way to be sure these numbers will hold up as the season progresses but when betting on baseball every winning angle helps and are definitely worth monitoring for continued success.
Here are some other profitable baseball betting tips that you may want to keep an eye on and take into consideration when placing your next baseball bets.
Best and Worst MLB Team record after a Loss:
Best
St. Louis Cardinals: 14-7 (.667)
Chicago Cubs: 18-9 (.667)
Los Angeles Dodgers: 17-9 (.654)
Cleveland Indians: 19-13 (.594)
Texas Rangers: 17-12 (.586)
Worst
Philadelphia Phillies: 13-28 (.317)
Miami Marlins: 13-23 (.361)
Milwaukee Brewers: 15-24 (.385)
Cincinnati Reds: 13-20 (.394)
Colorado Rockies: 14-20 (.412)
Best and Worst MLB Teams when playing on exactly one nights rest:
Best
San Francisco Giants: 6-1 (.857)
San Diego Padres: 4-1 (.800)
Washington Nationals: 6-2 (.750)
Detroit Tigers: 5-2 (.714)
Toronto Blue Jays: 5-2 (.714)
Worst
Minnesota Twins: 2-7 (.222)
Baltimore Orioles: 2-5 (.286)
Milwaukee Brewers: 2-4 (.333)
Tampa Bay Rays: 2-4 (.333)
Colorado Rockies: 3-6 (.333)
**All stats collected are from start of the season to Monday June, 15th. **