When it comes to sports betting football season is always one of the most anticipated times of the year. The NFL is one of the most highly wagered on leagues and it all starts with the preseason.
Betting on NFL preseason games can be a very slippery slope mainly due to player rotations and the outcome of the games having no real value to the participating teams. Sports bettors can often suffer from a lack of reliable and consistent information during the preseason making wagering even more risky. Although many would recommend avoiding wagering on these meaningless games there are times where some value can be found if you incorporate some key NFL preseason betting tools.
NFL picks this time of year have to be based on the information that can be obtained one of the most important being quarterback rotations. The QB depth chart in the NFL has the most value during preseason as it supplies sports bettors with a basic template as to who will see action on a week to week basis. The quarterback rotations and playing time can and will often vary week to week but having a basic understanding of who will see action can be used as a wagering advantage. Here is a table showing the 2015 NFL Preseason QB Depth charts for each team that can be used as a starting point in your NFL handicapping.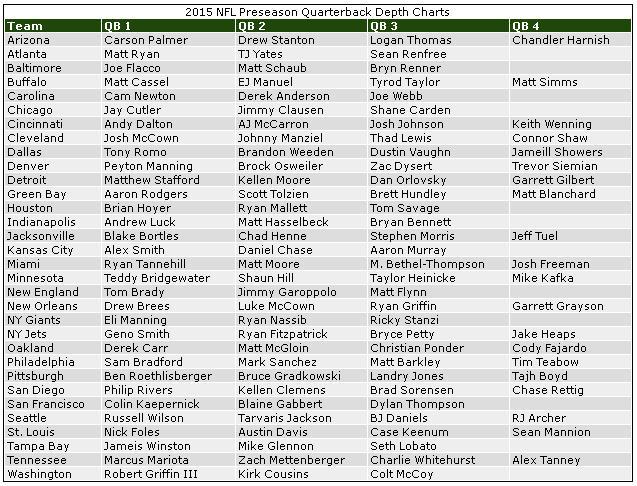 NFL betting is often the highlight of a sports bettors year and a vast majority of players wager more on football then any other sport. Some rely on free football picks and others rely on their own sports handicapping skills in hopes of producing a positive result. Regardless of the route one takes to making their wagers having as much information as possible can make the difference between profits and loss. When looking to find value betting NFL preseason games information sources such as team twitter accounts and local news outlets can be a big key to success. The 2015 NFL QB Depth Chart above along with weekly game information is sure to help make your NFL betting more profitable this season especially in the preseason.
NFL Team Twitter Accounts:
Arizona Cardinals
http://twitter.com/cardschatter – Managed by Darren Urban, Arizona Cardinals Website Manager
Atlanta Falcons
http://twitter.com/Atlanta_Falcons – Official Twitter account
Baltimore Ravens
http://twitter.com/1winningdrive
Buffalo Bills
http://twitter.com/buffalobillscom
Carolina Panthers
http://twitter.com/cpanthers
Chicago Bears
http://twitter.com/ChicagoBearscom – breaking news and updates
Cincinnati Bengals
http://twitter.com/Bengals
Cleveland Browns
http://twitter.com/OfficialBrowns
Dallas Cowboys
http://twitter.com/dallascowboys
Denver Broncos
http://twitter.com/denver_broncos
Detroit Lions
http://twitter.com/detroitlionsnfl – Official Detroit Lions account
Green Bay Packers
http://twitter.com/packers/
Houston Texans
http://twitter.com/houstontexans
Indianapolis Colts
http://twitter.com/nflcolts
http://twitter.com/nflcoltsnews – Colts news items
Jacksonville Jaguars
http://twitter.com/jaguarsinsider
Kansas City Chiefs
http://twitter.com/KC_Chiefs1/
Miami Dolphins
http://twitter.com/MiamiDolphins
Minnesota Vikings
http://twitter.com/VikingsFootball
New England Patriots
http://twitter.com/realpatriots
New Orleans Saints
http://twitter.com/Official_Saints
New York Giants
http://twitter.com/giantspathanlon – run by Pat Hanlon, VP of Communications for the Giants.
New York Jets
http://twitter.com/nyjets
Oakland Raiders
http://twitter.com/raiders
Philadelphia Eagles
http://twitter.com/EaglesInsider
Pittsburgh Steelers
http://twitter.com/steelers
San Diego Chargers
http://twitter.com/chargers
San Francisco 49ers
http://twitter.com/SF_49ers
Seattle Seahawks
http://twitter.com/seahawks
http://twitter.com/PeteCarroll – Head Coach Pete Carroll
St. Louis Rams
http://twitter.com/OneRamsWay
Tampa Bay Bucs
http://twitter.com/TBBuccaneers
Tennessee Titans
http://twitter.com/tennesseetitans
Washington Redskins
Instead of an official Twitter account, the Redskins have a "media team" with three separate Twitter accounts.
http://twitter.com/RedskinsBlog – Matt Terl – Official Redskins team blog
http://twitter.com/LarryWeisman – Larry Weisman, editorial director for the Washington Redskins
http://twitter.com/RedskinsDotCom – Gary Fitzgerald, Official Twitter Feed of Redskins.com
Another important aspect to consider before betting NFL preseason is the weight each teams head coach puts on results during this time of the year. Some NFL head coaches have historically put more emphasis on wanting their teams to get off to fast starts with preseason wins while other coaches seem to disregard this all together. Here is an up to date chart of each NFL head coaches preseason record for you use to as another key NFL preseason betting tool. A coaches attitude toward preseason game outcomes and win loss record this time of year combined with some of the other key bits of information is sure to help you find that hidden value that exists during preseason NFL betting.