NHL hockey betting is not as popular as other types of sports betting, such as baseball and football betting, it can still be a good way to earn a profit if you pay attention to its wager types. Many sports bettors can miss out on a great deal of chances to make good money when omitting this sports betting opportunity all together.
Due to the fact that it is not that popular, sports bettors can overlook various key aspects that can help them collect good money when betting on this sport. Like all other types of sports wagering the use of trends, stats, and systems can go a long way to providing you with winning wagers even if your knowledge of the sport and its leagues is lacking. Knowing the types of NHL bets and how they work is crucial once you have your sports handicapping information in hand.
Find down below the various bets that can be made when wagering on NHL Hockey: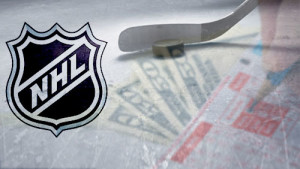 Types of NHL Bets
* NHL Money Line bets are perhaps the most popular type of NHL bet where you have to pick up the team that in your opinion will be the winner of the game regardless of when it ends. There will be one team favored at a minus numbers (Ex: -110) and an underdog team at a plus numbers (Ex: +110). A wager on the favorite team requires you to lay odds (Ex: $110 to win $100) at a minus number of (-110) where as a wager on the underdog will pay out a positive amount over your wager (Ex: $100 to win $110) at the (+110)number.
* Placing a NHL Puck Line bet where in you can bet on your favorite team, provided that you are certain that they will score at least 2 goals more then the opponent which allows you to win that particular bet. The wager is often tougher to win consistently but offers a more generous line being that the favored team has to win by 2 goals or more. A favored team could be (-200) on the money line but the -1.5 Puck Line wager offers a line of (+120) offering a better return if they win the game by 2 goals or more. You can also place puck line wagers on the underdog team at a +1.5 number usually requiring you to lay more juice. The underdog may be (+150) on the money line but the +1.5 puck line at (-200)giving them a 1.5 goal cushion. So if your underdog selection wins the game or losses the game by less then 2 goals you wager would be a winner. This wager losses if the game goes to overtime being that a single goal then ends the tied match up.
* NHL hockey totals bets (Over/Under bets) is another bet type that doesn't focus on the team that will win or lose the game but rather on how many total goals will be scored by both teams. Speaking more clearly, you have to try and guess as accurately as possible total of the final score of the game. As you can imagine, this betting system is more complex and without a good strategy and system set in place, you don't have good chances to win a bet.
* Not offered by all sports books the "NHL Regulation time only bets" wager is another often over looked option. When available it offers sports bettors a chance to wager on either side winning the game by 1 goal or more with out going to overtime. If the game goes to overtime no matter if the side you wagered on wins your wager is a loss. This wager often offers a much better price for both the favorite and underdog being that an overtime period results in a losing wager for both sides.